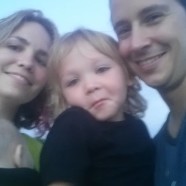 Yes, there is an "About Us" page on the website, but it contains all the boring, obligatory details about our education and whether or not we know what we are doing. This list is far more exciting and, hopefully, lets you all get to know us a little bit better.
1. Dominic and Carly met in Inquiry Skills (still don't have any idea what that class was for) on the first day of high school and Carly decided immediately that she was going to marry Dominic. Dominic told Carly he first knew he liked her "when she was kicking him in the shins in American Government" (apparently kicking a boy in the shins is the best way to show him you want to marry him). They began dating that year and were together 10 years before getting married (they had been together so long that, when Dominic proposed, Carly's response was "are you serious?"…before saying yes, of course).
2. Dominic brews his own beer and has for the last 7 years. It all began when he read about it on the internet and expressed a desire to brew beer at home (a small apartment). Several months later the entryway to the apartment was filled with hops and supplies, while the guest bath tub contained about 100lbs of grain. Since moving back to Fort Myers, Dominic has converted part of the garage into an electric brewing set up and serves homebrew from his homemade, 3 tap keezer (it is DELICIOUS, by the way).
3. Carly is deathly afraid of lizards; yes, you read that correctly, Carly is terrified of the little (and sometimes monstrous) brown lizards that run around everywhere. The fear is so strong that, one day while cleaning the back porch, Dominic scared a lizard in Carly's general direction. Carly had recently injured her Achilles tendon and was in a large walking boot. Galen was about 7 months old at the time and in a walker between Carly and the outside door. As the lizard ran in her direction, Carly screamed, lept over Galen in the walker, and ran out the porch door, rolling her uninjured ankle in the process. Don't feel bad about laughing, she knows it's absurd.
4. Dominic is currently in the process of converting the yard into a sustainable food forest. Although in its beginning stages, the property is already producing strawberries, blueberries, mulberries, Jamaican cherries, and some tomatoes. He has planted several edible green bushes, avocados, pomegranates, peaches, kumquats, Chinese dates, loquats, and more. Carly loves being able to go into the yard with Galen and snack as they play. Dominic will happily answer any questions about the yard and permaculture in general (read that sentence as: Dominic will talk your ear off on the subject, so inquire at your own risk).
5. Dominic and Carly originally believed that community acupuncture was for hippies and communists (although there is nothing wrong with being a hippie or communist, those were not terms they identified with). They fell in to the pattern of many mainstream acupuncturists and complained that making acupuncture affordable "devalued the profession" as a whole. How wrong they were. While operating their exclusive, house calls only practice, Dominic and Carly found they had a lot of extra time on their hands (insert shocking fact that most people cannot afford $125 per treatment here) and decided to provide free, community style acupuncture to the volunteers and recipients at the Our Daily Bread food pantry in Lehigh (their church helps run the pantry). It was an amazing success and, in the 2.5 hours that they were there every other week, they often saw upwards of 30 patients each. The positive results were staggering and the patients truly seemed to enjoy being around one another and sharing in the benefits of treatment. It was in this environment that Dominic and Carly were able to put their passion for helping people to real use and realized that prohibitive pricing was "devaluing the profession," not providing more people access to the benefits of treatment. It was from this experience that Good Medicine Community Acupuncture was born and it is how Dominic and Carly found their calling.
So, that's us…mostly. There are still some pretty interesting stories, experiences, and bits of knowledge we have to share, so ask away!